WCTEL team members Tag Bussey, Jeff Wilson, Lucinda Deason, and Wes McAllister joined MACK Board members Walt Smith, Ella Arnold, MACK Executive Director, Janice Grizzard, and Doug Lever representing the Solid Structures management team to celebrate the historic gift.
Why is this project important?
The McCormick Arts Council at the Keturah (MACK) was established in 1984 and opened its doors at the historic site early the following year. The site was listed in the National Register on December 12, 1985.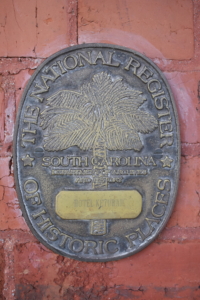 This historic site, while housing a successful arts organization, is currently in decline with a deteriorating system of functioning utilities, a lack of fire safety service, and historical elements that require specialist craftsmanship to retain the integrity of the building. Recently, our municipalities have deeded our organization the building and so designated our cultural organization as the steward of this culturally significant site. The investment in the historic site, our cultural organization, and the surrounding public park have all been identified as action steps for our community's investment. As the cultural center and community stakeholder for McCormick County, the McCormick Arts Council (MACK) and the historic Keturah Hotel are identified as major components of the McCormick County Economic Development plan. Collectively, we are participants in a larger preservation plan to include product development, public outreach, communication, quality of life, and downtown initiatives.  
What does the project hope to accomplish?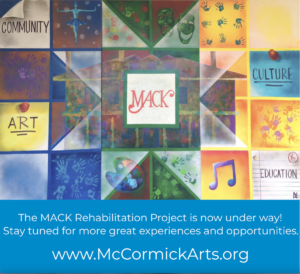 The project seeks to modernize the building in a historically sensitive way by installing new systems and utilities while increasing ADA accessibility for patrons. These renovations will provide highly flexible spaces that will allow the MACK to continue to serve the population of McCormick County for many years and to enhance its cultural purpose in the community.
Enhance ADA accessibility to all areas of the building and site
Update utility services and repair deficiencies to building for longevity
Approach renovations in a historically sensitive way
Create flexible and multi-use program spaces for a variety of arts-related endeavors
Thank you to the following individuals and organizations that have directly supported this project:
The Yoder Rosenberg Family Foundation
WCTEL
Freshwater Coast Community Foundation
Self Family Foundation
McCormick County (ARPA)
Town of McCormick (ARPA+)
SC Historic Preservation Grant
SC Legislators
Weichert, Realtors – Cornerstone
Jim Richards
Jimmy & Ginnie Smith
Ben & Lindy White
Roberta McKee
Jerold & Paula Goldman
Brenda A Lang
Barry Russell and Friends
Red Rooster – Shaaron Kohl
Margo Anderson
Kevin & Tina Mahoney
Charles & Mary Jennings
Lee W. Logan
Christine Elder
John & Judith Osborn
Ed McAllister & Joseph Carpenter
Sondra L. Gividen
Ken Wiles & Ann Fago
Glenn Gumbiner & Vicki Aleck
Jim & Bobbi Lambeth
Ronald Younts
SLV Windfall Group
Robert Schiffer
Ella Arnold
Sara Juengst
The Grizzard Family
The McNally Family