We are taking advantage of the unusual circumstances that COVID-19 has created by putting our energy and efforts towards managing our various grants, developing our strategic plan, and building our website to meet our growing needs.
While our programs and daily operations are currently suspended, we appreciate your support as we focus on what we can do during this difficult time — plan, prepare and provide a MACK that will be ready to serve fully when we have cleared this health crisis.
If you have any questions, needs or concerns during this time, please email the MACK directly and we will happily respond.
Thank you,
Heather McNally
Director of Programs and Development
mccormickarts@gmail.com
MACK Artisans Guild and Gift Shop – Join us!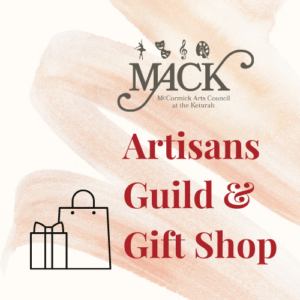 The MACK Artisans Guild & Gift Shop features quality handcrafted items to include jewelry, cards, pottery, fine art, and much more. In 2021, to support the rehabilitation efforts of the historic Keturah hotel, the MACK Artisans Guild and Gift Shop relocated to 218 S. Main Street. This program is entirely operated by local artists and volunteers. The MACK continues to expand opportunities to our regional artists and provides access to high-quality artisan goods. 
MACK Artisans Guild and Gift Shop
Hours of Operation:
Monday – Saturday
10:00 AM – 4:00 PM
McCormick, SC 29835
mccormickarts@gmail.com
864-852-3217
Your support means the world to us, especially during these difficult times. To be responsive to those who have asked how they can help, we have added a secure online donation channel through PayPal. Click below. Thank you!
Our organization is funded in part by the South Carolina Arts Commission which receives support from the National Endowment for the Arts. We are grateful to receive the support of our state and national agencies. We respect and appreciate these public funds are to be used to enhance the arts in our community.
While we're taking care of things…
Now would be a fantastic time for you to sign up on our new email platform. Just click the button and complete the form  — you'll be in the system.
Note: Please sign up here even if you are already receiving email updates. We are shifting to a new system, and your address won't carry over from the old system.