Thank you for being so supportive!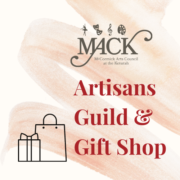 The McCormick Arts Council (MACK) Artisans Guild and Gift Shop wishes to thank all attendees and volunteers who supported the recent fundraiser at the McCormick Country Club.  All proceeds will help to repair the back wall of the Artisans Gift Shop where there is water damage. Masonry and repointing repairs will be needed to maintain the integrity of the back walls. If you would like to support this project, https://www.mccormickarts.org/item/donation/ or contact the shop directly. The MACK is a 501c3. All contributions are tax-deductible. Thank you!

Join us for Shop Small Saturday!
Shop small is on Saturday, November 25, 2023.
Shop Small is a nationwide movement to celebrate small businesses on Small Business Saturday and every day and to help communities thrive and stay vibrant. See the history of Shop Small here. #SupportLocal #LocalArt