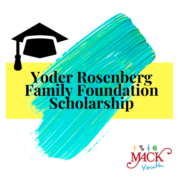 The Yoder Rosenberg Family Foundation scholarship program is awarding 15 scholarships to graduating seniors from Abbeville and McCormick Counties. These students represent 7 unique zip codes, are now enrolled in fall classes at 11 different colleges, and are pursuing 14 unique majors of study ranging from Early Education, Public Health, Psychology, and Communications to Agricultural Mechanization, Criminal Justice, Civil Engineering, Nursing, and Environmental Biology. To date, 78 graduating seniors have benefitted from this program providing $162,500 in financial aid to selected students in our community. 
In their applications, students were encouraged to list the various activities, organizations, and honors they have received as examples of school and community involvement. In alignment with the foundation's goals to serve and support a wide variety of students, students also wrote brief essays to describe why they should be considered for this scholarship. The Yoder Rosenberg Family Foundation strongly encourages students to seek continued development in problem-solving, creativity, and communication skills over the course of their lives. Students were asked to communicate why these elements are important and how they plan to apply these important skills as they advance their personal and professional goals.
The McCormick Arts Council at the Keturah (MACK) is honored to be the selected organization to assist the Yoder Rosenberg Family Foundation in delivering scholarship opportunities and financial aid to graduating seniors from McCormick and Abbeville counties. The Yoder Rosenberg Family Foundation generously distributes scholarship funding annually to support deserving students and is proud to invest in our local young adults who will greatly add value to their communities as they continue on their path towards a bright future.  
If you would like to join our organization as a member, student, volunteer, artist or leader – contact us via email mccormickarts@gmail.com, explore our website www.McCormickArts.org or call Heather McNally, Director of Programs and Development directly at(864) 602-0331. We welcome you to join our cause!
Scholarship recipients enjoyed meeting John and Pam Yoder while attending a reception to celebrate their shared success.