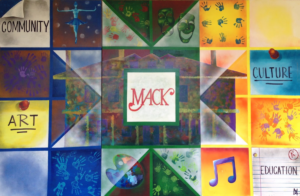 The purpose of the MACK is to stimulate and promote the arts, increase access to the arts and produce arts programming for the benefit of the citizens of McCormick, South Carolina, and the surrounding region.
We believe that art changes lives and enhances the quality of life for all. We have served our community for nearly 40 years and strive to advance the arts through exhibition, education, and quality cultural experiences.
The MACK serves as the visionary leader for the arts in our community and we plan, organize, and manage arts programming to benefit all. Our goal is to enrich our community through a variety of arts experiences. We aim to be accessible, intentional, accountable and engaging.
While the pandemic and current building project have altered our traditional program plan – the investment we make now will ensure arts are available to all for generations! The following is a list of our currently offered programming:  
Art Instruction

Arts in Basic Curriculum

Community Threads

Painting a Brighter Future

Sundays at Four

Yoder Rosenberg Family Foundation Scholarship

Youth Arts Programming
In addition, the MACK Artisans Guild & Gift Shop features quality handcrafted items to include jewelry, cards, pottery, fine art, and much more. Located at 218 S. Main Street, McCormick SC, this self-managed program is entirely operated by local artists and volunteers. 
Our organization serves as the visionary leader for the arts in our community. By committing to arts leadership, the Council becomes our community's advocate and unites our message for arts services. Our responsibilities include the following:
Raising awareness regarding the value of the arts

Enhancing the artistic quality of local arts activities

Preserving diverse cultural and artistic traditions

Creating resources that enable local artists to flourish
If you would like to join our organization as a member, student, volunteer, artist or leader – contact us via email mccormickarts@gmail.com, explore our website www.McCormickArts.org or call Heather McNally, Director of Programs and Development directly at(864) 602-0331. 
Our future is bright and beautiful. We welcome you to join our cause!