The McCormick Arts Council (MACK) and Clemson 4-H – Summer Youth Program Partners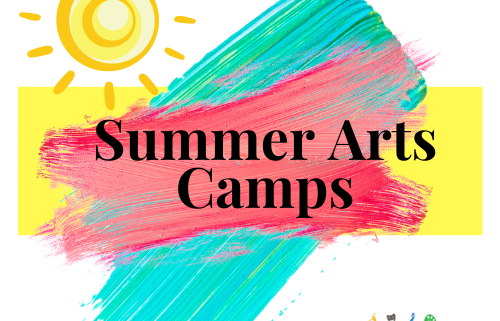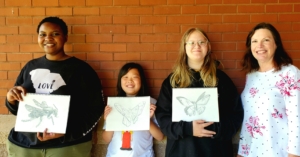 [McCormick, SC]: Summer youth programs resumed for the first time since the pandemic paused programming. The purpose of these programs is to provide fun, engaging, and educational experiences in our hometown.
Activities included painting murals as an introduction to public art with Mr. Damion Johnson. Students helped to add authentic Mexican peppers to the walls of locally owned family business, El Sombrero Mexican Grill. Lessons included painting composition at scale, cultural awareness, and color theory. Students of our community also helped to design, develop and start the Painting a Brighter Future mural at the Paul Dennis Center – Truth Youth Services on Main Street. This mural features a Carolina Wren, the state bird for South Carolina. The mural will be completed this summer.
McCormick 4-H led a fun CSI-themed summer camp that showed the students the science behind solving crimes. During camp, the participants learned how to dust for fingerprints, analyze teeth imprints, decode ciphers and more as they worked together to solve the case of the McCormick art heist. Additional 4-H programs and opportunities will be available throughout the year.
Pottery returned this summer with Ms. Angelika Bondar. Students were able to hand sculpt unique creations to celebrate nature. Artwork will be kiln fired and returned to students at a later date.
Ms. Joni Purk led a Drawing/Watercolor Workshop celebrating bees, butterflies, moths, and more. Students learned that drawing is an essential part of creating a work of art. Lessons included drawing exercises, "drawing what you see", negative/positive space, perspective/proportion, and applying watercolor to create a final composition.
It was wonderful to have local, and visiting, students resume science and art programs. Clemson University Cooperative Extension 4-H Youth Development enhances the lives of youth in our community by providing positive youth development programs relating to the areas of agriculture, community engagement and leadership, healthy living, and science. The MACK advances youth arts programming by offering various cultural and art education experiences. Additional programs are also offered in partnership through the McCormick County Library, John De La Howe, McCormick School District, Hickory Knob State Park, the McCormick County Recreation Department, and more.
This program is funded in part by the South Carolina Arts Commission which receives support from the National Endowment for the Arts. In addition, a generous donation from the Good Shepherd Catholic Church contributed additional funding to the MACK program for the purpose of helping stabilize and advance our youth programs during this year of continued recovery. These funds also provided art assistants for classroom support.
For more information about MACK Youth Programs, please contact Heather McNally, Director of Programs and Development at mccormickarts@gmail.com / (864) 602-0331. For more information about Clemson 4-H Programs, please contact Jaime Pohlman at jaime@clemson.edu / (864) 986-1026.
https://www.mccormickarts.org/wp-content/uploads/2021/01/Summer-Arts-Camps.png
500
500
Heather McNally
https://www.mccormickarts.org/wp-content/uploads/2018/03/mack-logo-web.png
Heather McNally
2022-07-14 10:48:22
2022-08-12 13:37:36
The McCormick Arts Council (MACK) and Clemson 4-H – Summer Youth Program Partners