Painting a Brighter Future: Murals at McCormick School Campus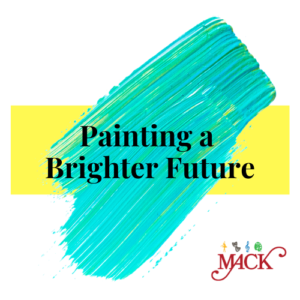 There are now three new murals on the McCormick Elementary School campus that provide engagement for specific educational goals: science, inquiry, and innovation. These murals are made possible through the McCormick Art Council (MACK) program entitled Painting a Brighter Future. Painting a Brighter Future is a public art program designed to engage our community members, students, and visitors. We are able to combine the intentions of this public art program and help our schools deliver a series of engaging, rich, and vibrant paintings designed to make the student feel immersed in the learning environment. Each mural for the McCormick Elementary School campus adheres to the curriculum standards and pacing guides for lesson plans and utilizes the arts as an important learning partner in providing a quality educational experience to our students. 
This project was made possible through an Art in Education grant provided through the South Carolina Arts Commission which receives support from the National Endowment for the Arts. It is also an extension of our Art in Basic Curriculum mission to provide students with quality art education and advance our student's educational experience by providing access to the arts for daily learning experiences. Most importantly, our students and teachers have celebrated the project and are actively enjoying and creating moments of learning engagement. The sheer scope and presence of the learning murals has transformed our school hallways with a quality project that excites, engages, and celebrates art in education. The images are truly spectacular. Our greatest accomplishment is to deliver these high-quality discovery walls for our students to enjoy. The look of awe and amazement on our littlest community members was worth every challenge this school year. We also are very encouraged by the continued greater commitment and value that art has to offer non-art curriculum. We believe these projects have accomplished achieving support and recognition for the value art has in enhancing our student's educational experiences. Thank you to everyone involved.
---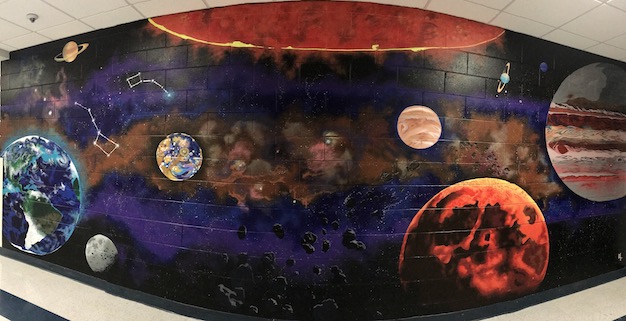 MES "Science Discovery: Solar System"
This learning wall was installed in February in McCormick Elementary school directly where all elementary car riders enter and exit the school each day and in a location, all students see throughout their day. It is in a prime location and features all solar system science standards from 4th through 8th grade including planets, constellations and allows us to teach about our universe.
---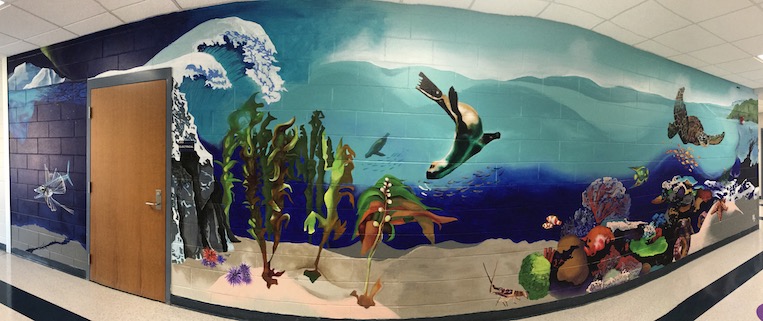 MES "Science Discovery: Oceans"
This is learning wall was installed in May and is located in the main hallway of our elementary school. All students pass this engaging image multiple times a day to attend lunch in the cafeteria and all related arts programs. This mural focuses on identified learning standards within the pacing guide from 3rd through 8th grade as well. It includes sealife, organisms, environments, adaptations, food chains, and many other science elements. It is a bright and engaging wall for which children can get excited about learning about our vast oceans.  We also are featuring the formation of landmasses and now have a site to show how the water cycle develops from our planet's most plentiful resource — water.
---
MES "Drama Discovery: Outdoor Stage"
This learning wall is designed to provide an outdoor theatre space in an open area separate from the classroom that can be used to create a safe, rich, and flexible play environment. This will be the first investment in our elementary new outdoor art play space, "Artist Alley" and helps meet the needs for developing learning opportunities while delivering standards to our students.
https://www.mccormickarts.org/wp-content/uploads/2021/01/Painting-a-Brighter-Future.png
500
500
Heather McNally
https://www.mccormickarts.org/wp-content/uploads/2018/03/mack-logo-web.png
Heather McNally
2020-07-31 10:00:12
2021-02-04 13:06:24
Painting a Brighter Future: Murals at McCormick School Campus