Sundays at Four to feature Cresent Brass Quartet on March 13, 2022 
Sundays at Four is a not-for-profit artist series organization in cooperation with McCormick Arts Council at the Keturah (MACK). All performances are at the  Lutheran Church By The Lake, Route 378 and Twelve Oaks Drive, Savannah Lakes Village, McCormick, SC, at 4:00 PM. Individual tickets can be purchased at the door of each performance for $25.00.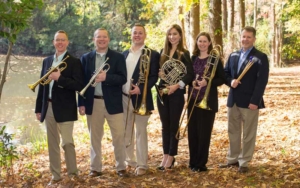 Josh Workman, Todd Jenkins, Matt Henderson, Meredith Boyd, Kate Jenkins, Kevin Baggott
The Crescent Brass was founded in 2001 by Todd and Kate Jenkins while graduate students at The University of Georgia. Since then, the ensemble has performed hundreds of concerts, weddings and church services throughout Georgia and the Carolinas. The current members of the Crescent Brass are active teachers, conductors, and performers.
Please note

– the final concert for the season will feature the 

Cresent Brass Quartet

on Sunday, March 13, 2022.

Thank you for your continued support!