Sundays at Four announce the 2021/22 season. Season Subscriptions are now available!
Sundays at Four has announced the featured artists and performance dates for the 2021/22 season. Please see the Season Subscription Flyer for details and additional program information. Season Subscriptions are now available!
All performances are at the Lutheran Church By The Lake, Route 378 and Twelve Oaks Drive, Savannah Lakes Village, McCormick, SC, at 4:00 PM *. A free reception will follow each performance—a wonderful opportunity to meet & talk with the performers. Be sure to write the performance dates in your home calendar!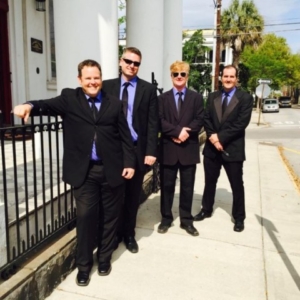 Sundays at Four: October 10, 2021 featuring Charlestones a Cappella 
The Charlestones were formed in 2014 at St. John's Lutheran Church in  Charleston, South Carolina. An a cappella quartet consisting of Todd Monsell (bass), Brink Norton (tenor), William Purcell (lead), and Stephen Spaulding  (baritone), they have quickly made a name for themselves with their  trademark flawless intonation, rocksteady camaraderie, and wide variety of  vocal styles.
Todd Monsell (bass) hails from Long Island and has called the Lowcountry  home since 2006. Son of a soprano and a drummer, he began music at a very  early age. Todd has two day jobs–Director of Music at Porter-Gaud School in  West Ashley, and Director of Music at St. John's Lutheran Church in downtown  Charleston.
Brink Norton (tenor) is originally from Birmingham, AL and graduated from  Auburn University with a degree in Choral Music Education. After teaching  music for 10 years in Alexander City, AL, he moved to the Lowcountry in 2007.  Brink now works in the Communications Office and directs Upper School  Choirs at Porter-Gaud School.
William Purcell (lead), the only Charlestone born and raised in the  Lowcountry, started singing at an early age. He was a member of Charleston  Youth Company from 1987-93 and the Middleton Singers from 1991-93,  earning a vocal scholarship to the College of Charleston.
Stephen Spaulding (baritone), born in Long Island, NY, moved to Charleston in  1983 from Memphis, TN as the youngest of 5 in a household whose parents  met in a choir singing Beethoven's 9th symphony. He has been the Bass  Trombonist for the Charleston Jazz Orchestra since its inception in 2007 and  has a studio of 50 private students on all brass instruments (except French  Horn!).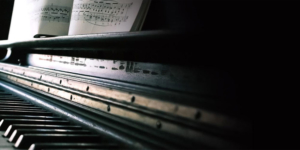 "The purpose or mission of Sundays at Four is to present professional caliber music programs in Savannah Lakes Village, including a diversity of soloists, chamber music and various ensembles for the general public at reasonable cost."
Sundays at Four is "the only Subscription Concert Series in McCormick County, SC". This will be the 21st Season of Professional Artists to serve our community.
Sundays at Four is a not-for-profit artist series organization in cooperation with McCormick Arts Council at the Keturah (MACK). All series concerts are held at The Lutheran Church By The Lake. The series does not provide income to the church, nor does it receive financial assistance from the church. The church donates the use of the sanctuary for the performances and the fellowship hall for the reception following each program. Sundays at Four greatly appreciates their generosity in making their beautiful facility with its superior acoustics available for our concert series.

Stop by our Artisan Guild Gift Shop (218 S. Main St, McCormick SC, 28935) to purchase your season subscription or print and mail – Sundays at Four Order Form.
Subscriptions at $75 each for 5 performances

Number of Subscriptions at $50 each for 3 performances

Individual tickets can be purchased at the door of each performance for $25.00
For any additional questions – mccormickarts@gmail.com / (864) 852-3216

Sundays at Four:  2021/22 
October 10, 2021 – * 5:00pm Concert
November 7, 2021
Garden City Bones featuring Wycliffe Gordon
January 9, 2022 
February 13, 2022 
March 13, 2022 
Be sure to write the performance dates on your home calendar! We hope to see you at the season's concerts and hope that you will recommend the series to your friends and neighbors. Thank you for your continued support.