Sundays at Four announce the 2021/22 season. Season Subscriptions are now available!
Sundays at Four has announced the featured artists and performance dates for the 2021/22 season. Please see the Season Subscription Flyer for details and additional program information. Season Subscriptions are now available!
All performances are at the Lutheran Church By The Lake, Route 378 and Twelve Oaks Drive, Savannah Lakes Village, McCormick, SC, at 4:00 PM *. A free reception will follow each performance—a wonderful opportunity to meet & talk with the performers. Be sure to write the performance dates in your home calendar!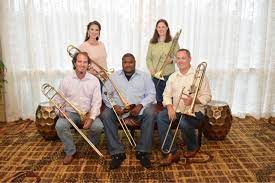 Sundays at Four: November 7, 2021 featuring Garden City Bones featuring Wycliffe Gordon
The Augusta University Jazz Ensemble is a college course for credit as well as a music ensemble. Under the direction of Wycliffe Gordon, this
ensemble provides students with performance experience in a big band
and/or combo setting. Through rehearsals and performances, the
participants develop stylistic awareness and performance skills associated with American jazz and popular music. These skills are applicable to a wide variety of jazz styles and improvisational music.
The Garden City Bones is a group of professional trombonists who
reside in the Augusta, GA area. They often perform as a quintet,
quartet, or trio, and they perform a wide variety of musical styles
including classical and jazz. A prominent member of the group, Wycliffe Gordon, tours regularly as a soloist and leading his own band headlining at legendary jazz venues, festivals and performing arts centers throughout the world. Most recently, Jazz Journalists Association name him "2020Trombonist of the Year" for the unprecedented 13th time, and Downbeat Critics Poll name Wycliffe "Best Trombone" again for 2020.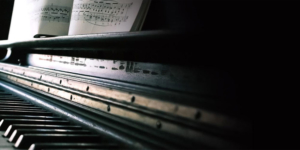 "The purpose or mission of Sundays at Four is to present professional caliber music programs in Savannah Lakes Village, including a diversity of soloists, chamber music and various ensembles for the general public at reasonable cost."
Sundays at Four is "the only Subscription Concert Series in McCormick County, SC". This will be the 21st Season of Professional Artists to serve our community.
Sundays at Four is a not-for-profit artist series organization in cooperation with McCormick Arts Council at the Keturah (MACK). All series concerts are held at The Lutheran Church By The Lake. The series does not provide income to the church, nor does it receive financial assistance from the church. The church donates the use of the sanctuary for the performances and the fellowship hall for the reception following each program. Sundays at Four greatly appreciates their generosity in making their beautiful facility with its superior acoustics available for our concert series.

Stop by our Artisan Guild Gift Shop (218 S. Main St, McCormick SC, 28935) to purchase your season subscription or print and mail – Sundays at Four Order Form.
Subscriptions at $75 each for 5 performances

Number of Subscriptions at $50 each for 3 performances

Individual tickets can be purchased at the door of each performance for $25.00
For any additional questions – mccormickarts@gmail.com / (864) 852-3216

Sundays at Four:  2021/22 
October 10, 2021 – * 5:00pm Concert
November 7, 2021
Garden City Bones featuring Wycliffe Gordon
January 9, 2022 
February 13, 2022 
March 13, 2022 
Be sure to write the performance dates on your home calendar! We hope to see you at the season's concerts and hope that you will recommend the series to your friends and neighbors. Thank you for your continued support.