Smithsonian Family Exhibition Night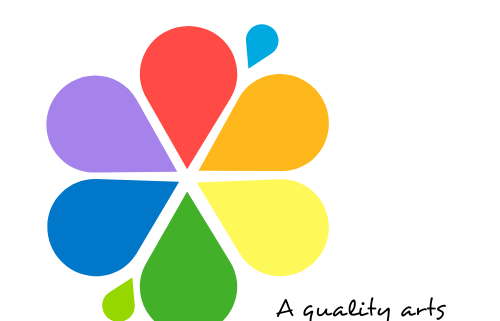 Dear kids, families, and educators …


Your local McCormick Youth Partners presents the Picturing Women Inventors Family Exhibition Night. Please join us on Friday, July 30th at the Red Rooster Emporium (2nd Floor Art Gallery – 118 S Main St. McCormick SC 29835) to view this exhibition. 
Please plan to continue to use safe practices while attending this event. Especially if you are not vaccinated, please continue to wear a mask, and social distancing is still recommended. The Family Exhibition Night will be open from 6:00 – 8:00 pm.
If you had to name an inventor, would it be a woman? Like their male counterparts, women inventors represent all segments of American society, but their stories are often overlooked or undervalued. Picturing Women Inventors highlights the distinctive motivations, challenges, and accomplishments of exceptional 20th- and 21st-century inventive women who are diverse both personally and professionally. Presented in bold wall murals, with text in English and Spanish, the exhibition illustrates the creativity of women inventors while inspiring young people (especially girls) to see themselves as future inventors.

Picturing Women Inventors
is organized by the Smithsonian Institution Traveling Exhibition Service, in collaboration with the Lemelson Center for the Study of Invention and Innovation and the United States Patent and Trademark Office, and is sponsored by Lyda Hill Philanthropies IF/THEN Initiative and Ericsson. 
Your local youth partners include The McCormick County Library, Clemson Extension 4H, The McCormick Arts Council (MACK), and The McCormick County Historical Commission. Special thank you to Ms. Shaaron Kohl and the Red Rooster Emporium.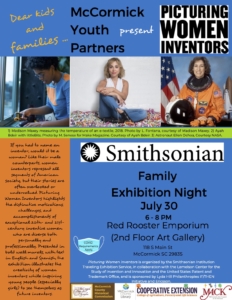 https://www.mccormickarts.org/wp-content/uploads/2021/04/Art-in-Education.png
500
500
Heather McNally
https://www.mccormickarts.org/wp-content/uploads/2018/03/mack-logo-web.png
Heather McNally
2021-07-22 10:00:45
2021-08-05 22:10:38
Smithsonian Family Exhibition Night