Arts in Basic Curriculum Student Performance and Art Showcase – Thursday, April 6, 2023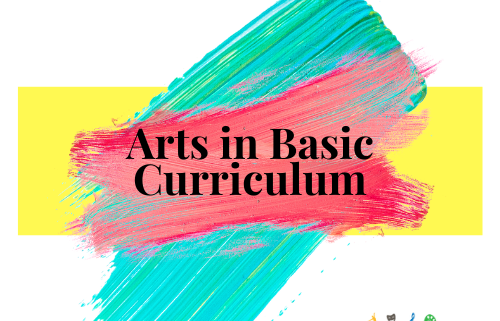 McCormick School District to offer Student Performance and Art Showcase
Tickets are now available!
[McCormick, SC] – Please join us on April 6, 2023, for McCormick County School District's Arts Showcase for the 2022-23 school year. Doors open at 5:30 PM at which time parents, staff, and community members are encouraged to walk through halls to support an extraordinary display of visual art by our students. Additionally, there will be performances by our MHS Chorus and Band.
See more below …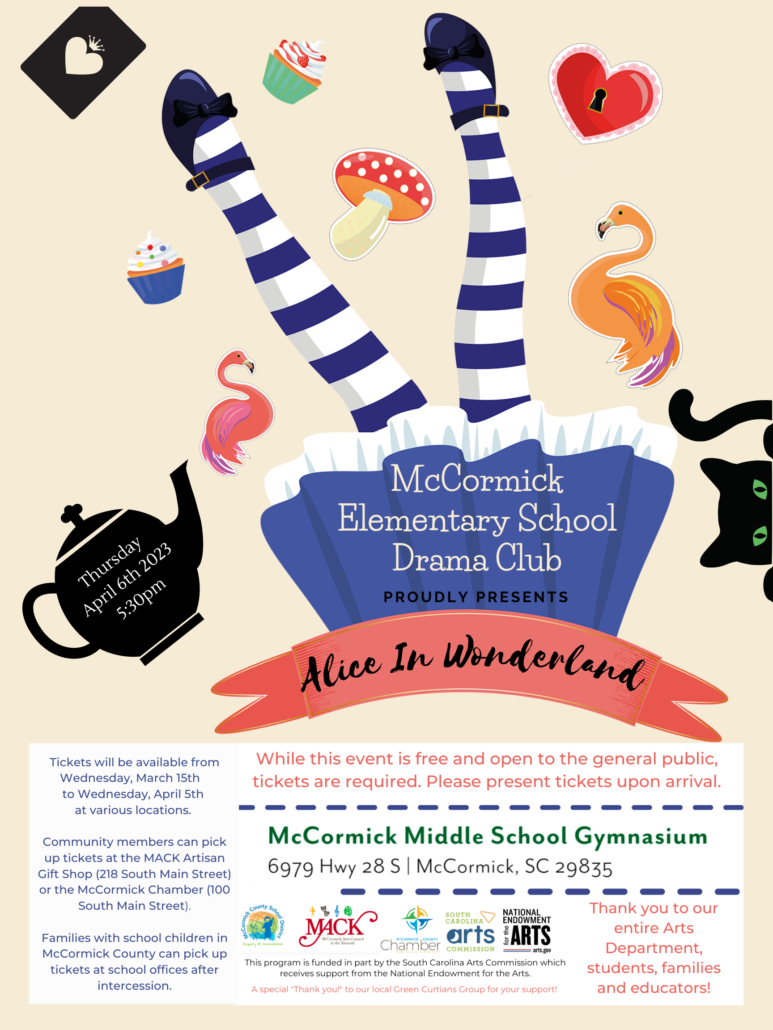 At 6:15 PM members will make their way into the McCormick Middle School Gymnasium (6929 Hwy 28 S, McCormick, SC 29835) for the MES Drama Club's performance of Alice in Wonderland. This abridged version of Alice in Wonderland has the charm of the classic story paired with simple yet creative staging. Follow Alice to Wonderland where she encounters curious creatures like the White Rabbit, Cheshire Cat, and of course, the Queen of Hearts. Alice's adventures teach her to question and wonder. In doing so, she finds her voice and the confidence she needs to grow. Staging, costumes, hair, and makeup, as well as stagehands, are all filled by MCSD faculty and students. 
TICKET INFORMATION: 
While this event is free and open to the general public, tickets are required. Tickets will be available beginning Wednesday, March 15th through Wednesday, April 5th at various locations. Families with school children in McCormick County can pick up tickets at school offices. Community members can pick up tickets at the MACK Artisan Gift Shop (218 South Main Street, McCormick, SC 29835) or the McCormick Chamber (100 South Main Street, McCormick, SC 29835).
This program was made possible through support provided by the South Carolina Arts Commission which receives support from the National Endowment for the Arts. It is also an extension of our shared Art in Basic Curriculum program mission to provide students with quality art education and advance our students' educational experience by providing access to the arts for daily learning experiences. Most importantly, our students and educators are actively enjoying and creating moments of learning engagement. A special "Thank You!" to our local Green Curtains Group for your support!
McCormick County School District is committed to providing world-class educational opportunities and experiences in the arts, ensuring that its students are prepared for anything and everything in a global society.
Thank you to our program sponsors, The Green Curtains

!
https://www.mccormickarts.org/wp-content/uploads/2021/01/Arts-in-Basic-Curriculum.png
500
500
Heather McNally
https://www.mccormickarts.org/wp-content/uploads/2018/03/mack-logo-web.png
Heather McNally
2023-03-17 09:00:53
2023-03-21 13:46:15
Arts in Basic Curriculum Student Performance and Art Showcase – Thursday, April 6, 2023