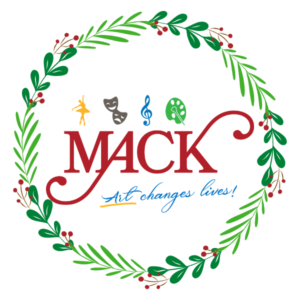 Merry Christmas and Happy New Year! 
Thank you for your continued energy, enthusiasm, and support of local arts. Your contributions and participation will help us continue to serve our mission, provide quality programs and return as a visionary organization post-COVID / Construction.  We wish all to have a safe, healthy, and happy holiday and new year. 
~ The McCormick Arts Council (MACK)
We have had a good year – considering the national landscape for the arts …
The McCormick Arts Council (MACK) organizational priorities for this year:
Invest in the historic Keturah Hotel, a

once-in-70-year

project!    

✅

Maintain delivery of quality programs within COVID limitations  

✅

Develop and advance the organizational goals  

✅

Plan and prepare for a visionary return to full operations 

   

✅
We miss you, too! As we prepare to address the critical infrastructure issues of our historic facility, we are also preparing for a bright future for our organization and community. We have verified that our $1.1M pledge will be available to us in full and we now can address the needs outlined in detail within the architectural documents and cost estimators report presented. This is a massive undertaking – we are encouraged by extensive public support as we proceed.
We miss kids and meeting new faces! While we are actively attending to all of our current programs, we also miss the vibrancy that our students, community members, and children bring to our cultural center. We are patiently preparing for alternative options and locations to expand the arts as we await our final construction plans and groundbreaking ceremonies.
HAPPY NEW YEAR!
We are very optimistic about our organizational goals for 2022. We are committed to continuing to deliver our mission "to provide art, culture, and education" and we greatly  look forward to a revitalization of the arts and vibrancy of our cultural center.