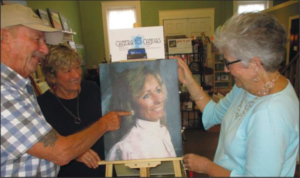 Barry

Russell's constantly trying 
new things at Artisan Guild Shop 
By Bob Stockton
Several things have contributed to the success of the McCormick Arts Council at the Keturah Artisan Guild & Gift Shop:  a new location at 218 S.Main St. and a larger, brighter store are two of them.
Another factor is new works from new artists and new works by longtime artists of the Guild. 
Barry
Russell has been contributing to the Guild shortly after he got into art as a student of Clint Scott at Piedmont Technical College in 2010-2011.
A New York native, Russell and his wife Barbara moved to Savannah Lakes Village in 2007, and he describes himself as "always being something of a woodworker."  Years ago he built a replica of a 1920 Chris Craft barrelback speed boat.  Russell said his aunt and uncle were notable artists.
"I was nine years old when they got married, and they would take me to all the art museums and galleries in the New York city area," he said.  "I loved to be with them and look at the pictures, but I never had a real interest in doing artistic work.
"I was doing scroll sawing prior to stained glass, but Barbara busted my chops on my color selections of stained glass. I decided to go back to college and that's where I met Clint in Art 101.
"I enjoy the adventure of trying new things, and Clint got me started in all this.  I could not believe what I could do with a #2 pencil and eraser and my right hand, then we moved on to other mediums.
"I now work with pencil, acrylic, pen, paper sculpture, quilling, wood carving and digital art. My greatest accomplishment is a paper sculpture that I did that is now hanging in Clint's living room.
"Along with art, I enjoy sailing, motorcycling, flying my airplane (Russell got his pilot's license three years ago, ed.) and the journey into my genealogy.
"I love history, and I love this area.  I've been to about 75 percent of the cemeteries in McCormick County.  Sara Yuengst at Willington on the Way talked me into becoming a volunteer at the history center and while there I was able to restore and colorized a lot of their old photographs.
"I'm also finding out being a digital artist is something I'd like to pursue further.  I find it very enjoyable, and I'm learning something new everyday.
"I'm working on a few commissions now and enjoy the reaction I get from the clients when they see their old pictures come to life in color and then on a painted canvas," said Russell.
He describes the process:
"I can take a photo into an FX Art program using my stylist with a Wacom tablet, and I actually re-create the photo into a painting in any genre I choose.  I can edit the photo, change background, and add or delete anything that I think needs to be done to enhance the appearance.
"The only difference between doing it on canvas is that I don't buy the paint nor do I mix it on a pallet.  By the time I'm finished, it is an original piece of art.
"I send that image to a printer to be put onto stretched canvas. When the canvas comes back I edit it for color and clarity. I am really just a beginner in this new art field & loving it," Russell said.