MACK 2021 – Looking forward …

MACK 2021 – Looking forward …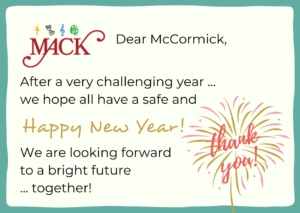 Thank you to our community for your continued support!
The McCormick Arts Council (MACK) wishes to thank every student, artist, member, and stakeholder. 2020 was certainly "one for the books." As we celebrated our 35th Anniversary this past year we also survived an ongoing pandemic, took care and caution for our volunteers and participants, planned for a bright future, and benefitted from an incredible pair of pledge agreements to serve the next 35 years. It was a roller coaster year and we hope 2021 is going to be a year to shine! We are grateful and proud to continue to serve our community. Our mission is "to provide art, culture, and education" and, even in a challenging year, we look forward to a stronger organization and a brighter future. 
Looking forward
Typically the MACK offers an annual plan for up to 20 various programs. For 2021, two keywords will lead our program proposals; COVID and Construction. We will continue to review our signature programs and make our decisions based on the reopening guidelines for art / cultural recommendations. In theory, each program, event, and activity will be considered in a tiered system; Continue (some modification may be required), Modified (COVID, delivery, relocation, method), or On Hold (suspended until further notice). We will continue to review quarterly and provide support for program leaders to develop a safe plan to provide cultural opportunities to our community. 
For example, we will be able to continue to provide support to our Arts in Basic Curriculum partnership with the McCormick County School District. Painting a Brighter Future, while the expected participation will not be typical, this program can certainly continue to enhance our community with minimal impact, though dependent on grant support. Our annual Yoder Rosenberg Scholarship will continue without any major complications or challenges. While participation may be limited, the projects and planning can certainly proceed and strengthen the overall program impact.
We also will review if and how to continue certain programs that may need to modify and/or relocate. These programs will include Community Threads, Visual Arts (art classes and workshops), and Sundays at Four. Our MACK Artisan Guild and Gallery Shop operate as an independent organization. They slowly returned to service this fall and made the plan to negotiate terms for a rental arrangement on Main Street to be ready by early Spring 2021. 
However, programs such as our monthly Artist Exhibitions, Juried Art and Juried Photography will be "on hold" especially through the first half of the year. Programs that will be determined for future consideration are Summer Art Camps and Dinner with the Masters. We plan to provide potential relocation options for our studio rentals for artists as possible and are making relocation decisions and recommendations based on a similar tiered plan. For programs that will continue, including modified, we will need to determine the potential revenue and expenses. If the program will relocate, whether we can offer continuation with partnership support or if we need to budget for payment plans. Programs deemed to be on hold will most likely relocate for storage purposes, also a "partnership, pay or suspend" decision. 
Ultimately, the health and safety of our participants and community, especially as a high-risk community, has to remain our main responsibility. Additional factors such as stakeholder input, safety, maintenance, and limited revenue opportunities versus limitations are also essential in determining if delivering "programs as usual" is even the right choice. 
Restricted Gifts vs. Operational Fund
Great news in 2020 will impact 2021. The two recent generous gift pledges made possible by the Yoder Rosenberg Family Foundation will certainly affect our community for generations. These gifts are restricted for specific purposes: To fund the MACK Capital Fund for the MACK Rehabilitation Project, and to establish the MACK Educational Fund for the purpose of maintaining our annual scholarship program, and to support additional programs as advised annually by the donor. Thank you to each member who expressed kind words of cheer and gratitude. 
These pledges will become actionable at the donor's discretion and will allow us to proceed with the major facility updates and educational goals as set forth in our gift agreements. We do have an excellent team of qualified professionals to oversee the project and we anticipate up to 18 months of planning, construction, and related needs before opening our doors to the public post-COVID and construction. We will continue to serve our mission and deliver cultural opportunities, though modified and designed for a healthy return to full service.
These generous gifts, however, will not have any effect on the MACK's Annual Fund. This is our general operations fund and the core structure of our organization. The purpose of the MACK Annual Fund is to provide priority funding for the daily operations of the MACK. The primary portion of funding comes from annual membership dues, and continued support from donors and advocates is essential. Sources of revenue for the Annual Fund include Membership, Programs, Grants, Public Funding (A-Tax), Events, and Contributions. Especially after a "year of COVID" we will still need to achieve our operational needs through these various avenues. 
All Year Giving
If you may be considering a donation, please contact the MACK directly or ask your tax advisor about the benefits of gifting to a 501c3 non-profit organization. Creating a charitable giving plan is a great option for both donors and organizations.  For example, Required Minimum Distribution (RMD) and Qualified Charitable Distributions (QCD) benefit individuals that have recently turned 70 1/2. 
Our charitable giving information is: 
McCormick Arts Council at the Keturah, Inc. 
FEIN # 57-0788937
We offer a variety of giving options, available year-round, for you to consider such as joining our MACK Membership, Friends of the MACK, DONOR 25 (Major Donor), Legacy Fund, Endowed Legacy, Capital Fund, and Corporate Giving Program. Every gift matters and helps our organization deliver our mission to provide art, culture, and education to our region. Thank you.
To contact Heather McNally, Director of Programs and Development directly please email mccormickarts@gmail.com / (864) 602-0331
Art changes lives!
###
https://www.mccormickarts.org/wp-content/uploads/2021/01/MACK-2021-Thank-You.jpg
1240
1747
Heather McNally
https://www.mccormickarts.org/wp-content/uploads/2018/03/mack-logo-web.png
Heather McNally
2021-01-01 09:00:27
2021-02-04 09:38:37
MACK 2021 – Looking forward …