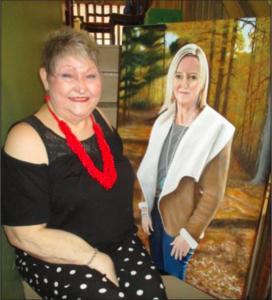 Parksville's Patricia

McDonald

shows new portrait painting at Artisans Guild
By Bob Stockton
The McCormick Arts Council at the Keturah (MACK) Artisan Guild & Gift Shop has moved operations out of the MACK's Keturah Hotel in preparation for a major rehabilitation project, and is now located at 218 S. Main St., McCormick.
The new brighter and larger shop is attracting increased foot traffic, sales, and contributing artists.  Patricia
McDonald
of Parksville is one of the recent guild members and a relatively recent painter.
She was born in McCray, GA, raised in Burke County, and met her current husband, Walter, in Augusta. "Walter and I married in 1983 and have lived in Parksville since 2002, and I'm a southern girl,"
McDonald
said.
She's a preacher, has been a foster parent, done factory work, worked in a court, managed a resort and more.
"I meet people and make friends," said
McDonald
.  "I checked out the Artisans Guild, let it go for a while, visited again, Janice (Grizzard, MACK executive director) told me everything, and I joined.
"Everyone here is an artist of some sort.  Most of them think like I do.  All of them are friendly, each and every one. Six years ago, I saw something that inspired me and said I'd like to paint,"
McDonald
said.
She started with watercolors and now works with everything but them:  color pencil, pastels, oils, and acrylics.
She specializes in portrait painting, and is exhibiting a large portrait of a young woman with a very personal connection. "Every picture has a story," said
McDonald
.
McDonald
is self taught. She was offering lessons to Alzheimer's patients before the COVID-19 pandemic affected her ability to teach.  She is available for commissions and encourages community members to come out to the MACK Artisans Gift Shop.
"I'm thinking of the Guild selling raffle tickets for a portrait,"
McDonald
said.  "The winner can give me a photo of a subject, and I'll contribute the painting." The shop has more information.