Sounds of the Season – A Symphony of Success!
Augusta Symphony's Sounds of the Season Holiday Concert in McCormick was "WONDERFUL!"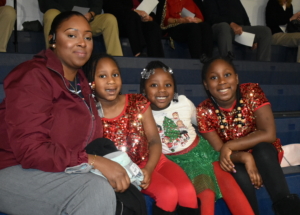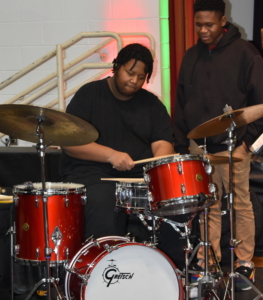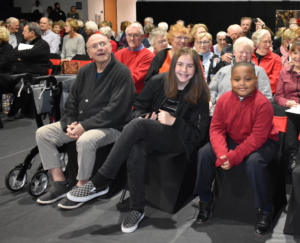 McCormick, SC – On December 12, 2022, the Augusta Symphony's education and outreach program, Community Chords, visited the McCormick School Complex to offer a special experience. The day began with a holiday concert for all McCormick County School District school children. Throughout the day,  students enjoyed opportunities to interact with various musicians during Classroom Concerts and panel discussions. Symphony members were model artists and professionals discussing their unique careers, experiences, and music with students and educators. Symphony on the Road ended a perfect day with a free community holiday concert, "Sounds of the Season" in the McCormick Middle School Gymnasium to nearly 500 community members, families, and students. 
According to Veronica Andreassen-Barker, Community Chords Program Director and Music Therapist, one of the musicians shared that this event was a "favorite concert of the year because [they] could tell how much the students in the morning, and the community in the evening, valued them being there".
If you attended, please take a moment to complete the following community feedback form: Community Feedback Form – LINK
"It was an absolute pleasure to work with all of your staff, children, and community members. I am so impressed by the team spirit in your school system and arts community and applaud you for your hard work and the example you are setting for the kids."         ~ Anne Catherine Murray, Executive Director for the Augusta Symphony
Thank you to the McCormick School District, Music Department, and team members for making sure this special event was a success, including our MACK Artisan Shop and Chamber partners. The MACK is proud to support the McCormick County School District and appreciates the clear commitment to our students and community by providing world-class educational opportunities and experiences in the arts. Funding for the Symphony on the Road concert is provided by the following generous sponsors; Greater Augusta Arts Council, National Endowment for the Arts, and the Georgia Council for the Arts. 

Through its Symphony on the Road program, Augusta Symphony and Community Chords bring symphonic music to neighboring rural communities for education, enrichment, and community building. This initiative provides opportunities for cultural experiences and personal growth through in-school concerts for elementary through high school-age students. For many students, these musician interactions and concerts are their first introduction to live symphonic and classical music. Over the years, this program has impacted communities such as Jefferson, Burke, McDuffie, and Lincoln counties in Georgia and Edgefield and Aiken counties in South Carolina. This year, for Symphony on the Road, the Augusta Symphony was able to partner with McCormick County School District and McCormick Arts Council at the Keturah (MACK) in McCormick, South Carolina. 
https://www.mccormickarts.org/wp-content/uploads/2022/11/augusta-symphony-featured.jpg
317
833
Heather McNally
https://www.mccormickarts.org/wp-content/uploads/2018/03/mack-logo-web.png
Heather McNally
2022-12-15 09:00:50
2022-12-22 15:24:49
Sounds of the Season – A Symphony of Success!